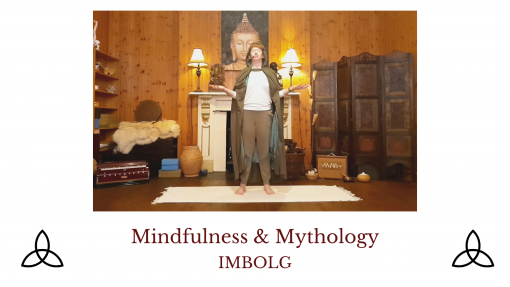 Mindfulness & Mythology Imbolg
Mindfulness & Mythology starts with Yin Yoga and gentle movement to drop us into our bodies, open our minds and create space. The theme of the class is new beginnings and re-emergence, as we embody a seed on its transformation in spring.
Within that receptive space I will tell you all about the Sacred Irish Festival of Imbolg and the aspects of Brigid, as Goddess and Saint.
We'll hear mythology, hagiography, scholars accounts, and most especially, good old stories.
We then use the tool of Guided Visualisation to receive blessings from Brigid, in which we'll use our imagination and inner guidance to connect with symbolic aspects of our psyche and our unconscious mind, providing insights into finding appropriate ways of relating to and integrating the qualities of the stories we've encountered.
About your facilitator:
Sarah is an experienced yoga teacher and founder of Oak & Willow Irish Yoga Teacher Training.
Sarah is ordained as 'Priestess of the Sacred Land' by Coire SOIS School of Irish Spirituality. She regularly conducts mindful, ceremony-based workshops in accordance with the Celtic Wheel of the Year festivals. She integrates the deep well of wisdom within Irish Spirituality, Mythology and Storytelling into her offerings, combining and reclaiming the teachings of both Irish and Yogic spirituality, which have many parallels.
This workshop is dedicated to Goddess Brigid and also Sarah's teacher, Deirdre Wadding, for the many blessings they have given Sarah.
This is a pre-recorded workshop that you can watch in your own time.
The Yoga & Gentle Movement class is 1hr 10mins.
The Opening of Ceremonial Space, Guided Journey, & Integration starts at 1hr 11 mins
You could easily do this class as two separate pieces if that suited and you can revisit it as many times as you like.