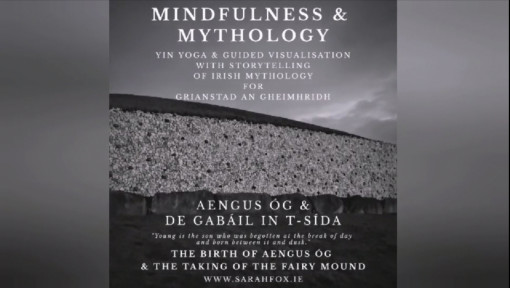 Mindfulness & Mythology - Aengus Óg
Mindfulness and Mythology starts with a Yin Yoga & shruti box session to drop us into our bodies, open our minds and create space. We'll use repetition of Irish language phrases as a mindful practice. The word mantra, taken from Sanskrit, has been defined as a structured formulae of thoughts, claims, prayers, sacred utterances, incantations or tools of manifestation. A simple definition is that repeated phrases are used as a verbal instrument to produce something. The Yin Yoga practice has 5 min and 2 min holds with the repeated phrases as an anchor for the mind.
We'll then find a rest pose that can support us while we are introduced to the characters of Irish Mythology and their lore. I will read an introduction to the story of Aengus Óg as an archetypal figure in myth.

The story I'm using is from the beginning of Tochmarc Étaíne (The Wooing of Étaín), partially preserved in the manuscript known as the Lebor na hUidre or The Book of the Dun Cow (c.1106), and completely preserved in the Yellow Book of Lecan (c 1401). It also appears in the Book of Leinster (c.1160).

Mythology may be seen as a source of understanding of the universal themes that have beset human beings throughout time. With an archetypal framework these Gods and we may deepen our experience of the world around us and within us. We will then move into a deep Guided Visualisation with connection to Aengus Óg in which we'll understand what it means to return to the light of our full potential . We may connect with symbolic aspects of our individual psyche and our unconscious mind, while providing insights into these aspects of our inner life and finding appropriate ways of relating to and integrating these qualities.

The price is €27.
This prerecorded practice, to watch at your leisure, is yours to return to as many times as you like once purchased.

Please be gentle and compassionate with yourself. This is a long session with meditation and visualisation practices. It may not be for everyone and use your discretion for your own wellbeing and mental health. If you have a history of mental illness or trauma, please consult with your health care provider before practicing meditation and mindfulness.This workshop is not intended for psychological treatment. As this is online and not facilitated in person please be aware that you are responsible for your choice to listen to the recording, to perform the exercises and do the meditative practices and you are responsible for your well-being and mental health. Your experience will be unique to you, your background, your history and life situation. You may experience strong emotions when you listen to the Guided Meditation, which is not uncommon and totally normal. However, if you feel you cannot listen and stay safe, please discontinue. You may experience unusual sensations in your body, shifts, releases and/or movement as you follow the practice of Yin Yoga, Guided Visualisation and Meditations.This again is normal. However, if you feel extremes of any of these and unsure about your safety, it is your responsibility to consult with a medical professional or trauma-informed mental health practitioner. Of course, contact me with any questions you may have about the practice or the outcomes of the practice.

SOURCE MATERIAL

Beyond The Mist: Reflections On Irish Mythology - by Peter O'Connor
Early Irish Myths and Sagas (Penguin Classics)
http://www.ancienttexts.org/
http://www celt.ucc.ie